EveryIncome
Asset Managers Platform
Partner with EveryIncome to help structure, design, and create product offerings to raise capital for your business. 
The Asset Managers Platform (AMP) is a full suite of turnkey capital market services for Asset Managers and Issuers seeking to structure, design and create product offerings — and raise capital in the retail marketplace.  Partner with EveryIncome to dramatically compress your time to market, leverage technology, and utilize our expertise.
3 Service Levels to Choose From
AMP Subscription
Subscribe to the EveryIncome Asset Managers Network
Marketplace Listing
List your product in the EveryIncome Marketplace
Full Service
Design, management, marketing, distribution, compliance and investment technology platform
Credit hedge funds

generally invest in private and publicly traded fixed income securities.

An NYSE ETF

focused on the real estate of American business.

Investing in underserved communities

and offering potential tax incentives to investors.

Land Investments

identified by a Fortune 500 homebuilder for near term development.
The Asset Managers Platform (AMP)

is a full suite of turnkey capital market services for Asset Managers and Issuers seeking to structure, design, create product offerings, and leverage technology to raise capital.

EveryIncome

is redefining how technology is used to help issuers, professional intermediaries, & their clients.
  Interested?
To re-create EveryIncome's team as your in-house capital markets team would require an upfront investment of millions of dollars over several years. We deliver our services to asset managers at a fraction of that cost.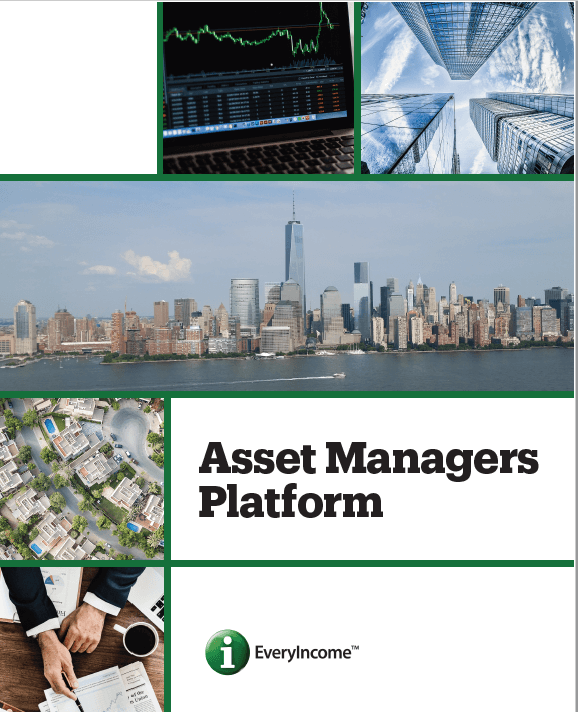 Asset Manager Platform Registration
Subscription Level Benefits
NO FEE FOR 2019!
Access to EveryIncome Asset Managers Platform — plus access to all other EveryIncome Digital Platforms, including platforms focused on businesses and consumers.
Subscribing Asset Managers will have exclusive access to regular educational forums and articles on accessing and raising capital, with focus on retail, through channels such as the Independent Broker Dealer Network and Registered Investment Advisors.
As part of the subscription, we also offer a complimentary in-depth telephone consultation between Senior Company and EI executives on capital raising and product offering structuring, in retail and institutional channels.
Subscriptions can be cancelled at any time.
$4000 per month; includes all features of the subscription service.
Listing the offering on the EveryIncome Marketplace will provide the product offering with the services of a managing broker dealer facilitating investing in the Offering and channel marketing and distribution.
Product Offering Listing services can be halted at any time by providing 30 days written notice.
Summary of Services Menu Options and Benefits
For Asset Managers who require a more full-service model, we offer a flexible and cost-effective solution — an a la carte menu of services which include product offering design, offering registration, management, marketing, distribution and compliance. Price to be negotiated based on selection.
Identification of appropriate product structure and fees, given prevailing market conditions and the nature of the sponsor's investment strategy
Development of online and printed marketing collateral and strategy
Completion of 3rd party Due Diligence Reports required by the distribution channels
EveryIncome third-party legal, audit and due diligence discounts
Management of the offering, compliance and investment technology platform
Oversight of the offering by senior EI capital market professionals
Ongoing due diligence services
Management of marketing services, campaign and CRM implementation during the offering
Outbound marketing campaign to include content offers, email marketing promotion and webinars
Development of an offering plan, budget and financial model
Oversight of the development of legal and offering documents
Sales support from EveryIncome's internal and external sales resources
National and Key Account support from EveryIncome's Team to secure and service selling agreements in the various distribution channels
Regular educational article production for online and email marketing campaigns
Regular and ongoing promotion on social media
Redesign of current marketing collateral
Note: We reserve the right to refuse services, in the event the services menu selected, are in our opinion, not conducive to the success of the product offering. This is a summary, but not an exhaustive list of services: These services will be priced on an upfront, plus monthly fee basis. Product offering Fee splits will also be included and can typically be incorporated into the cost of the capital raise.